Department of Asian Studies
The Department of Asian Studies at the Faculty of Arts at Palacký University Olomouc is an academic institution that focuses on educational, scientific, and research activities concerning contemporary languages and cultures in Asia, especially China, Japan, Korea, Indonesia, and Vietnam.
For information about our research activities, see the Academics & Research as well as Activitites and the profiles of the individual members of the Department in People.
The Department offers degree courses on undergraduate, graduate, and postgraduate level. To learn more about the study programmes that we currently offer, see Study Programmes.
Petr Janda translated a collection of essays by Walis Nokan
The publishing house Mi:lu has just published a collection of essays by a Taiwanese writer Walis Nokan (Walisi Yougan). The collection was translated to Czech by Petr Janda from our department. See this link for more information (in Czech).
Join us at our 16th Annual Conference on Asian Studies
Join us at our 16th Annual Conference on Asian Studies which will take place on November 25–26, 2022 in a hybrid format in Olomouc, Czech Republic and online via the conference (web)app Whova. The general theme of the conference this year is "Bodies, Gender, Identities". See the interactive conference program and register as an audience member in order to gain access to the conference (web)app Whova. After your registration has been processed, you will be able to access the conference webapp and use the mobile app as well.
EAKLE workshop hosted by our department
The Department of Asian Studies at Palacký University Olomouc hosts the 9th EAKLE Workshop on 30–31 August 2022. With its biennial workshop, EAKLE provides a stage for scholars and teachers in the field of Korean language education to discuss and advance methods of teaching Korean that best suit the different students in the various countries of Europe and in other parts of the world. The workshop fosters collaboration among scholars and teachers and is also open to researchers on Korean linguistics and Korean literature insofar as their work pertains or can be connected to language education. It will feature presentations and discussions on a wide range of topics related to the teaching of Korean as a second language. The participants will discuss evergreen topics against the backdrop of new trends and insights gained through recent language education scholarship and experience, thus getting updates, fresh input and inspiration. Performances "outside the box" are encouraged. Some presentations will be "shows of best practice", involving the audience and demonstrating hands-on solutions for actual challenges encountered in classroom.
This is mostly a live and face-to-face event but as some presentations will be held online, the 9th EAKLE workshop will be held in a hybrid mode, using a Whova platform. This will be a closed event, open only to registered participants who are members of the association. More information is available on https://www.sites.google.com/view/eakle. A separate event homepage will be available soon. For queries to the conference organizer write to eakle2022@upol.cz.
Halina Zawiszová co-edited a book published by Peter Lang
A collective monograph entitled Interests and Power in Language Management and co-edited by Halina Zawiszová from our department was recently published by Peter Lang. The book was published Open Access and so is freely available for download here.
"The volume expands the discussion on the language management (LM) framework through two themes: interests and power, which are driving forces of the LM process, observable and describable at every step. It consists of thirteen contributions analyzing diverse situations in Europe, Asia, and Africa. Authors focus on a range of topics, including the role of language ideologies in various types of institutions, such as higher education institutions and language cultivation centers, the struggle to maintain minority languages, the positions of the actors involved in the process of making policies concerning foreign language teaching, or the processes that learning and choosing to use foreign languages entail. Emergent insights into the commonalities in the ways in which interests and power guide or underlie the management of language, communication, and sociocultural problems contribute significantly to the strength of LM as a sociolinguistic framework."
A chapter co-authored by Ondřej Vicher was published in a prestigious publication (kopie 1)
A chapter by Lucie Olivová (Masaryk University) a Ondřej Vicher (Palacký University Olomouc) entitled "On translating Jin Ping Mei to Czech" was published in the volume Encountering China's Past: Translation and Dissemination of Classical Chinese Literature. "This contribution aims to provide general insight into translating the novel Jin Ping Mei 金瓶梅 into Czech. Part one, written by Lucie Olivová, provides a brief introduction to the translation history of traditional Chinese literature into Czech, followed by a report on our translation of the Wanli edition, taken over from the late professor Oldřich Král, which began at the beginning of 2020. In Part two, Ondřej Vicher consequently describes the joint translation process, concisely introduces the main features of the Czech language, and analyzes the specific translation issues which both current translators encountered, most of them having been caused by the specifics and peculiarities of the Czech language." (source)
Andreas Schirmer on Korean 'multicultural literature' and discourses about Koreanness
Andreas Schirmer's chapter "Korean 'Multicultural Literature' and Discourses About Koreanness" has been published in a volume that deals with the long-term historical influence of Korea's international contacts, exploring the impact of international influences on the society and language of both North and South Korea.
"Before the South Korean state began to promote multiculturalism, the idea of the 'homogenous' nation was cherished in South Korea for decades, and this has often been concomitant with concepts of a specific essence that defines what it is to be Korean. In view of this, Andreas Schirmer explores the intriguing fact that the struggling characters in South Korea's tamunhwa munhak ('multicultural literature') are usually not haunted by any sublime quintessence of the homo coreanicus but rather by Korean ideals of outward appearance."
See the publisher's webpage for more details.
Prestigious workshop for Ph.D. students co-organized by our Department
The Department of Asian Studies at Palacký University Olomouc is going to host the 2022 edition of the European Association for Japanese Studies's prestigious workshop for Ph.D. students working on topics related to Japanese studies.
"The European Association for Japanese Studies (EAJS) invites doctoral students in all fields of Japan-related research (humanities and social sciences) to apply for the 18th EAJS Workshop for Doctoral Students (23–26 August 2022). The workshop will take place at Palacký University. The EAJS will cover the costs of travel (up to 400 EUR) and accommodation for the duration of the workshop for a group of 18-20 doctoral students and 4-5 senior scholars who will act as advisors. The EAJS Workshops for Doctoral Students aim to create a multidisciplinary European network of advanced graduate students and senior scholars in Japanese Studies. The informal setting of the workshop provides a unique opportunity for participants to work intensively together to improve individual projects and engage in deep discussions on common themes and methods. Through presentations and focused sessions, participants give and receive critical feedback on dissertation projects, fieldwork plans and preliminary findings. Participants will be required to submit a report outlining their dissertation project prior to the workshop. Moreover, they will be asked to read the work of their peers and prepare for workshop presentations, thus linking their own work to the broader international field of Japanese Studies. Students will also get extensive opportunity to discuss their projects with a senior scholar in their respective field." (source)
More information is available here. You can also ask directly Prof. Barešová or Dr. Zawiszová.
Kateřina Šamajová a Michaela Zahradníková published an article on Chinese language teaching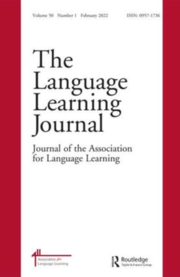 Kateřina Šamajová a Michaela Zahradníková published an article entitled "Key Factors in the successful implementation of Chinese language courses in upper secondary schools: a case study from the Czech Republic" in The Language Learning Journal. "This paper aims to provide a comprehensive narrative of the current status of Chinese language teaching at upper secondary schools in the Czech Republic. Processes involved in developing the Chinese language curriculum in upper secondary schools were mapped through a qualitative survey. Representatives of 20 schools were interviewed to identify factors associated with the successful implementation of Chinese language courses. The research focuses on answering two questions: (1) What factors determine the success or failure of a Chinese language programme at a secondary school? (2) What systemic support can be provided to facilitate Chinese teaching at upper secondary schools? In answer to the first question, factors such as the mindset of stakeholders, curricular classification, employment, and partnerships are discussed. As for systemic support, fostering a realistic attitude, institutional support and cooperative partnerships are suggested. These findings may serve as a source of inspiration for countries where the Chinese language in secondary education is still in the process of development, as is the case in the Czech Republic." (zdroj)
Call for Chapters for our collective monograph
Andreas Schirmer's chapter in a book published by University of Hawai'i Press
"Invented Traditions in North and South Korea examines the ways in which compressed modernity, Cold War conflict, and ideological opposition has impacted the revival of traditional forms in both Koreas. The volume is divided thematically into sections covering: (1) history, religions, (2) language, (3) music, food, crafts, and finally, (4) space. It includes chapters on pseudo-histories, new religions, linguistic politeness, literary Chinese, p'ansori, heritage, North Korean food, architecture, and the invention of children's pilgrimages in the DPRK." (source)
Andreas Schirmer's chapter explores how modern Korean translations of premodern Korean literature written in classical Chinese (hanmun) were promoted as a form of heritage conservation. In principle, translation granted access to high culture to all. But when these "old classics" are constructed as the centerpiece of original Koreanness, the concept of invented tradition comes into play.